Lookie what the UPS man brought...
A plain brown box!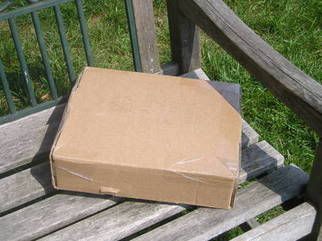 But wait, there's polka dots!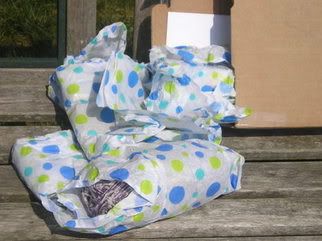 Unwrap the paper to see
all the loverly gifts my pal sent me!
Ahem. Yeah. That attempt at poetry was lame. But I'm just soooo excited! Just look at all my goodies--
Some cool books to read--a teeny Darwin Awards book (those are funny as hell, you should go read some when you're done here) and a knitting mystery (I had no idea). Ducky sticky notes (who couldn't use some of those to brighten their day?). That little lidded jar in front is a cucumber-melon scented candle (I wish you could smell its yummy-ness). Those BandAids back there are Care Bear bandaids...for my boo boos (awww, how sweet is that?). Some purple and cream Opal sock yarn (*drool*).
That item on the right is a sock project bag, made especially for me (edit) as requested of Trek (/edit) (go see Trek, she makes sock bags and needle rolls from all sorts of cool fabrics and I hear she accepts trades!) by my pal. The fabric is part gardening print, part muted floral. I know you can't see it very well but can you see what's in the bottom? Here, in case you can't quite make it out...
A HEDGEHOG!!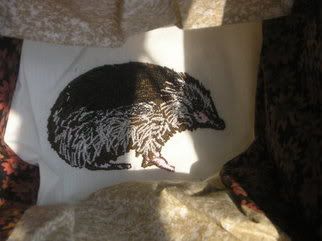 Is this not the absolute coolest sock project bag ever?
If Widget (my hedgie) didn't poo all over the place, I'd introduce them.

Thank you so much, my Secret Pal. Have I told you lately how much you rock?!