Just LOOK at what came in yesterday's mail. Do you see Yarn Harlot's newest book? Do you see that cute little notepad with my initial on it? Do you see that lavender linen spray (it smells yummilicious)? The gorgeous handmade beaded stitch markers? And...omg...I have to keep
fondling
pinching them to make sure they're real. *blink* Yes, *grope* they're still there...two absolutely perfect colored skeins of Artyarns Utramerino 4!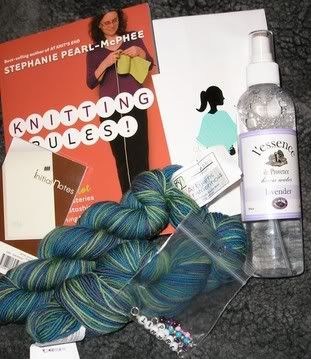 OK, who are you who knows me so well? *stares hard at all my best crafty friends* Naw, even they don't know me this well. LOL
Thank you soooo much, my Secret Pal...you really brightened my day. The other yarnies in the house are jealously eyeing my prizes while drooling over my shoulder. Nope. Not sharing. It's ALL MINE!!