I tried to join Secret Pal 8 but my cable went down and the email didn't go out until a day too late. Then I got a return email asking if I'd be an "angel" who fills in if someone's pal drops out. Sure, why not? I think, since it hasn't even started yet, that it's too early for someone to have dropped up but I got another email asking if I was still interested in participating. WOO HOO, I have a pal! I don't know anything about her yet but I'm really excited.
Except...I have to answer and post this. Wow, it's a lot of questions...
**11/14/07 updates
1. What is/are your favorite yarn/s to knit with? What fibers do you absolutely *not* like?
Since discovering the joy of natural fibers (wool, merino, silk, cotton, cashmere, alpaca), I've pretty much given up most acrylic. I use it for kid knits but not much else. I adore sock yarn.

2. What do you use to store your needles/hooks in?
My KnitPicks Options binder and another large binder with clear zippered pouches.
I actually have a couple needle roll/organizer things but this (the pull of my desk drawer and that pink tubey thing) is where they all seem to end up.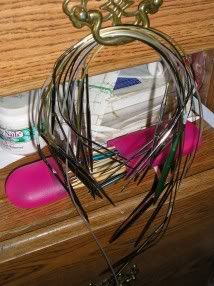 3. How long have you been knitting? Would you consider your skill level to be beginner, intermediate or advanced?
30+ years, advanced

4. Do you have an Amazon or other online wish list?
wish list is waaaaay out of date, need to fix that
Amazon wish list though it doesn't show up under my email for some reason (it shows with my full name)

5. What's your favorite scent? (for candles, bath products etc.)
I love lavender, spice/cinnamon, fresh green scents

6. Do you have a sweet tooth? Favorite candy?
Doesn't everyone? Ooooh, chocolate

7. What other crafts or Do-It-Yourself things do you like to do? Do you spin?
Crochet, household projects...spin? Not yet
I DO spin...I have a new Louet Victoria wheel and many, many SpinSanity Spindles

8. What kind of music do you like? Can your computer/stereo play MP3s? (if your buddy wants to make you a CD)
classic rock, alternative, pretty much anything except rap/hip hop/heavy metal/blue grass

9. What's your favorite color? Or--do you have a color family/season/palette you prefer? Any colors you just can't stand?
I love jewel tones, sapphire blues, not too partial to yellow/oranges but I'm trying to branch out into colors that aren't the same as every other color I've bought...I especially like socks and other small accessories in bright colors (including yellow/oranges)

10. What is your family situation? Do you have any pets?
I'm married with children (9 between us, 5-7 at home), my husband has been traveling for work a lot for the past several months, we have many pets (see my blog profile)

11. Do you wear scarves, hats, mittens or ponchos?
I'm not much of a poncho or hat person but have been drooling over some felted hats friends have made and mittens would be VERY cool...since I live in MI, the winters are cooooold and I never remember to knit mittens for myself

12. What is/are your favorite item/s to knit?
socks...no, felted bags...uh...socks...yeah, socks lace, lace, and more lace...shawls

13. What are you knitting right now?
socks, socks, socks...an entrelac shawl, dishcloths, couple of sweaters need just a little more work...oh, and some tessellated fish
socks, dishcloths, hats for charity, Christmas knitting (socks, scarves, mittens, hats mostly)

14. Do you like to receive handmade gifts?
yes, yes, YES! (can you tell I'm excited? :-D)

15. Do you prefer straight or circular needles? Bamboo, aluminum, plastic?
I have mostly circular (they're easier on my arthritis)--bamboo, Addis, Inox, KnitPicks Options and Harmonies (I am so in love with these, I may donate all the rest of my needles)--and DPNs

16. Do you own a yarn winder and/or swift?
Yes, yes I do!
not yet *sob*

17. How did you learn to knit?
my mom taught me the basics and I've taught myself from there

18. How old is your oldest UFO?
I actually found the first afghan I ever made...about 30 years ago...still needs the ends worked in
the oldest was probably my friend's wedding afghan but I finished it last year (5 years later)

19. What is your favorite holiday?
Christmas

20. Is there anything that you collect?
yarn, mini clocks, yarn, knitting books and patterns, stuffed hedgehogs, charms for my charm bracelet...did I mention yarn? FIBER for spinning!

21. Any books, yarns, needles or patterns out there you are dying to get your hands on? What knitting magazine subscriptions do you have?
yarn, yarn, yarn and more yarn (I wouldn't mind fondling some of this or this *drool*), the books on my Amazon wishlist, I don't subscribe to any print knitting magazines but love knitty.com I sub to Interweave Knits and Spin Off

22. Are there any new techniques you'd like to learn?
Eventually, I'd like to try spinning. Hmmm...do I have nothing left to look forward to now? Eh

23. Are you a sock knitter? What are your foot measurements?
Isn't everyone? US size 8.5-9 foot= 9 1/4 inches

24. When is your birthday? (mm/dd)
November 17